| | |
| --- | --- |
| | My paternal grandparents were Poorman / Ryan |

| | |
| --- | --- |
| My paternal grandparents . . . | |

| | |
| --- | --- |
| | |
| I never met my grandfather Poorman. He died when my Dad was just 7 years old. He worked at the paper mill, and built the house at 15 East Brown Street in Castanea PA. I think he and Gram lived on Walnut Street for a while while he was building the house. He married Gram in 1913, and Dad was born in 1914. I'm glad I got to meet a couple of his brothers, Great Uncle Al, and Great Uncle Clyde. Grand Dad John Sylvester is buried in Section 5 of Highland Cemetery in Lock Haven. | Thank God I had Grammy Poorman. She was a significant figure in my life, and I learned some lifelong values from her. I miss her so much. I visit her Maple tree on Jessamine Street and pray every time I go to lock Haven . . . |

My paternal great-grandparents were Poorman / Ingram . . .
I have never seen a photo of my Great-Great Grandfather, Joseph P. Poorman.

My Great-Great-Great Grandfather, Peter A. Poorman . . .
Peter Aquila Poorman
1776 - 1865

This is the oldest Poorman image I could find of my Poorman ancestors, i.e. my Great-Great-Great Grandfather Peter Aquila Poorman.



On May 26, 2012, I visited the Union-Throne Cemetery in McElhattan, Wayne Township, Clinton County, Pennsylvania. Several generations of my paternal grandparents are buried there, i.e. Peter Aquila (1776-1865), his son Joseph P. (1829-1906) and his son Robert Curtin (1862-1895); and some extended Poorman relatives.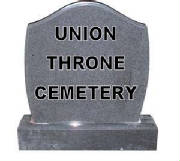 My granddaughters, Crystal Poorman & Diana Poorman . . .