Here's a brief summary of Forrestal activity during my assignment:
19 Jan 1962 USS Forrestal received a Unit Award, i.e. the Armed Forces Expeditionary Medal [AE] for 19 Jan–7 Mar 1962. Jan-Feb '62 the ship accomplished a six-week refresher training cruise off the east coast that extended down into Caribbean waters, focusing upon the Guantánamo Bay area. She also visited Port-au-Prince, Haiti. In addition, Mercury-Atlas 6 [MA-6] launched from Cape Canaveral in Florida at 0947 on 20 February 1962. LCOL John H. Glenn, Jr., USMC, the 40-year-old astronaut, completed three orbits about the earth in four hours 55 minutes to become the first American to orbit the planet. Glenn flew spacecraft Friendship 7 in her 75,679 mile voyage at a maximum speed of 17,544.1 miles per hour. Describing his re-entry as a "real fireball" Glenn splashed down in the Atlantic some 166 miles east of Grand Turk Island in the Bahamas, about 800 miles southeast of Bermuda. Destroyer Noa (DD-841) recovered the astronaut after he spent 21 minutes in the water, and a helo flew him on to antisubmarine warfare support aircraft carrier Randolph (CVS-15) at 1745. Although Glenn did not land nearby, Forrestal stood ready as one of the potential tracking and measuring stations for the epochal flight.
9–14 Apr 1962: Forrestal combined operations with aircraft carrier Enterprise (CVAN-65) for a presidential cruise. President John F. Kennedy and his entourage arrived on board Enterprise on 14 April. The busy day included sea and air power demonstrations for the President and many distinguished guests, including most of his cabinet, the Joint Chiefs of Staff, many congressmen and about 30 foreign ambassadors, all hosted by VADM John M. Taylor, Commander, Second Fleet. About 20 ships participated in the exercise off the Virginia and North Carolina coasts. A "spectacular display" culminating in a mass flyby and recovery by naval aircraft entertained guests. CDR Joseph P. Moorer, commanding officer of VF-62, LCDR Joseph S. Elmer, LT Richard C. Oliver and LT William F. Heiss of that squadron shook hands with President Kennedy on board Enterprise at the conclusion of the demonstration. Forrestal also hosted Vice President Lyndon B. Johnson and several senators and congressmen during the cruise.
Mid to late Apr 1962: Following the Presidential Cruise, Forrestal returned to the Caribbean for the Atlantic Fleet exercise LantPhibEx 1-62, and took advantage of the opportunity to visit Port of Spain, Trinidad, where the Carrier Division 4 band entertained crowds.
Jul 1962: The ship visited New York City for Independence Day festivities. During one of the days of her week-long stay, almost 22,000 "curious" visitors swarmed on board.
6–12 Jul 1962: Leaving New York waters, Forrestal participated with Enterprise in LantFlex 2-62, a nuclear strike exercise under the command of RADM Reynold D. Hogle, Commander, Carrier Division 4 and Commander, TF 24. Enterprise launched eight "pre-planned" strikes and six call strikes while operating in the Virginia capes area against targets ranging from the Tidewater area to central Florida.
3 Aug 1962: Forrestal weighed anchor and set sail for another Med deployment. This sail included 12,900 officers and men from commands along the east coast assigned initially to the Second Fleet, manning Enterprise and Forrestal, guided missile heavy cruiser Boston (CAG-1), from which RADM Robert H. Weeks, Commander, Cruiser Destroyer Flotilla 10, broke his flag, heavy cruiser Newport News (CA-148), from which VADM John M. Taylor, Commander, Second Fleet, broke his flag, 13 destroyers from Destroyer Squadrons 8 and 14, ammunition ships Shasta (AE-6) and Suribachi (AE-21) and oiler Chukawan (AO-100). This became the last time that A-1 Skyraiders of VA-85 deployed on board Forrestal, and her first deployment with Mach 2.2 capable McDonnell Douglas F-4 Phantom IIs of VF-74. Soviet Tupolev Tu-95 [Tu-20] Bears would fly the huge journey–hundreds of miles–from their fields near Murmansk in the Kola Peninsula to find the ship as she crossed the Atlantic. Russian electronic specialists operated their sophisticated sensors probing for the carrier's radar, and when they discovered her they would drop down for a closer look, but Phantom IIs from the ship would intercept the intruders and escort them out of the area. Even during the tensions of the Cold War most of these encounters were professional and the rivals often waved to each other.
13–17 Aug 1962: Forrestal participated in RipTide III, an exercise with allied aircraft carriers in the eastern Atlantic that demonstrated interchangeability, compatibility and reliance with NATO allies including the British, French and Portuguese.
7 Sep 1962: Forrestal participated in Lafayette II, an exercise that involved 14 scheduled conventional strikes coordinated with aircraft from Enterprise against multiple targets to the French Low Level Route in southern France. French air force and naval aircraft opposed them.
6 Oct 1962: NATO chiefs of staff embarked Forrestal for a one-day cruise.
16–17 Feb 1963: Enterprise relieved Forrestal at Pollensa Bay.
2 Mar 1963: Forrestal returned to Norfolk. Russian reconnaissance bombers overflew the carrier en route her return home. Her aircraft flew over 10,300 missions and logged over 23,000 hours in the air during this deployment.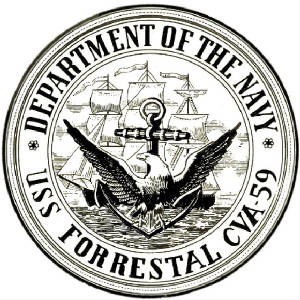 OUR UNIT ONBD USS FORRESTAL CVA-59
Steve Bergstrom, Bob Bowman, Jerry Brown, Jack Caldon, Corky Corcoran, Deege Dechesser, Joe Gallagher, Alfie Hodge, Bob Hores, Jack Ingram, Bob Migacz, Shorty Parker, Ken Poorman, Joe Pryor, Sal Salazar, Paul Sipe, Larry Treaster, Ted Zelio