| | |
| --- | --- |
| | My maternal grandparents were Hall / Wertz . . . |

Clarence R. Hall
My Maternal Grandfather


1880 - 1920

CLARENCE RICHARD (WERTZ) HALL: His Bio-Father was Taylor Wertz and his Bio-Mother was Taylor's wife Phebe Hall. They gave him in adoption to their siblings, i.e. Taylor's sister, Emma Wertz, and her husband, Phebe's brother Everett Hall. Hey, a brother and sister team married a brother and sister team.

I wish I had a good picture of my grandfather Hall. He died twenty years before I was born. I think my cousin Carol Clarey Messina has a photo of him. I'll have to ask her for a copy.

Alice T. Hall
My Maternal Grandmother


1877 - 1932

Clarence Richard Hall married ALICE THEA DOWNS on 9 October 1905 in Williamsport, Lycoming county, PA. Let's complicate this further, she was the daughter of Matilda Wertz Downs - yes, Taylor Wertz' sister! That's right, he married his first cousin. There were only about two families up Hall's Run, the Halls and the Wertz. I think there were several Hall/Wertz marriages up there. Yep, we all look alike too. Ha.


They had three children, Emma Louise Hall (Hammond), Bell Evelyn Hall (DeFilippo), and Pearl Madeline Hall (Poorman-my mother).

I never met either of my maternal grandparents. Clarence died when my mother was only 7 years old, and Alice died when Mom was only 19.

Clarence & Alice's Daughters

| | | |
| --- | --- | --- |
| | Aunt Belle Hall DeFilippo | |

Emma Hall Hammond
My Aunt Emma L. Hall (DAR) married Tyler F Hammond Sr. in the

Washington Chapel

at Valley Forge, Pennsylvania on December 30, 1933. If you go there, you can see my name, Kenneth R. Poorman, on the Veteran's Wall of Honor. I go there often and feel close to Aunt Emma there. Sometimes I ride my morotcycle over and sit outside and listen to the Carrilloneur practicing for the Wednesday night concerts. It's only a few minutes from our home in West Norriton.


Belle Hall DeFilippo
MY UNCLE VAL

Valdo DeFilippoBorn: 6/14/1913 - Majestic KYDied: 11/26/2002 - Fair Oaks CAWWII VeteranParents: Luigi & AgataBrothers: Lindo & Marino

I remember Aunt Bell and Uncle Val visiting us when we lived on the Island Route. They stayed with Mom & Dad, but came over a lot. And Uncle Val would walk my sons up Water Street to the YMCA to swim in the river. He was kind to the kids, and they liked him a lot. My Aunt Bell was Uncle Val's second marriage. I'm sorry I never got to meet and know his family. Aunt Bell and aunt Emma came east again when Mom died in 1976, ant both visited us in Valley Forge in about 1980.
Pearl Hall Poorman

My Great-Grandfather, Everett Franklin Hall



Labels provided by Carol Clarey Messina vary slightly:
Top: Mary Hall summerson, Joe Hall, Ebb Hall (Everett, my great grandfather), Phoebe (Phebe) Hall Wertz
Bottom: Jane Hall Seese, Dane Hall, Tillie Downs, Artie Till (per Gram Wertz [my great aunt Cordie])


Jesse Hall State Park Renovo PA

Hall Wertz Reunion 8-12-2004


David, Mildred Hall Humes & Doug
Our Hall - Wertz family reunion is held at the Jesse Hall State Forest Picnic Area in Hall's Run every year on the second Saturday of August. The Jesse Hall state park is located just South of the intersection of Rt. 144 and Barney's Run Road.

| | | |
| --- | --- | --- |
| | | |
| | In 2005 our Jesse Hall reunion notice indicated that in 1066 the Fitzwilliam family left Normandy for England and changed their name to Hall. In all of my time gathering family information, I never knew this tidbit. Nor did I ever hear my mother mention it. Don't koww if this is the same Fitzwilliam of Denmark . . . | |
| | | |
Point Breeze, South Renovo PA

The Hall Homestead was Point Breeze, up Pete's Run in South Renovo. It was located just below the reservior. It was beautiful in its glory days, but today it is in shambles. When I was a kid, it had a guest house, servant quarters, an ice house, smoke house, carriage house, etc. I found a note that Mom wrote many years ago, and she remembered her dad's horses names. I remember when they ripped the guest house down, and the carriage house, then the second floor porches, then the 1st floor porches. Mom, Aunt Emma and Aunt Belle sold it to Frank and Helen Stagoff in the 1950's. Stagoffs lived in it for a few years, then rented it out. The current owner ripped the entire front section of the house off, added forward gables to each end, and converted it into apartments. It doesn't even look like the same house now. The spring is still there by the bridge. I stop by every few years to take a look.




Some more Halls . . .
According a note from Rene M. Hall of Long Island City NY, Don Hall of York PA was her Uncle;

Joseph M. & Minerva Kepler Hall

were her grandparents - Jesse D. Hall her grandfather.


Click on the Hall Family Crest below and take a look at Rodney Hall's website. Our Halls were from the same area where he lives in England, but we have not established a direct line to him yet - but can't imagine we're not related.
HALL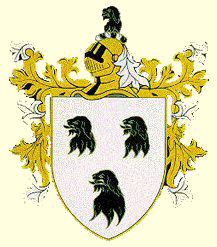 CREST