| | |
| --- | --- |
| | Some Ken Poorman Navy Pix . . . |


Here is some of my Navy info, from my enlistment in Philadelphia Pa, to Boot Camp in San Diego CA, to School of Music in Washington DC, to Sea Duty with COMCARDIV 4's Unit Band #194, to CINCLANTFLT / SACLANT . . .

and the ships I was on, and the ports of call, etc . . .
USS Midway CVA-41 - - - - This Navy thing started for me when I was in grade school. Bud Yost across the street used to tell me Navy stories. So my front porch bacame a Battleship, and I threw stones at the cars going by, i.e. the enemy. I hit a lot of them too! Then when I was about 7 or 8, my parents took me to visit Mom's sisters and aunts in San Francisco; Aunt Emma Hammond, Aunt Belle DeFilippo, Great Aunt Flora Sinnigan and Great Aunt Pearl Nielson, who all lived in Frisco. While we were there, for about a month, Aunt Belle took me to hear a Marine Band concert in Golden Gate Park, and I was really impressed. It was hair raising. I love Sousa marches to this day. Then my Dad took me on a tour of the USS Midway which was tied up at Alameda NAS in Frisco Bay. That sort of reinforced Mr. Yost's Navy stories. I really became interested in the Navy after that. And seeing the Navy planes added a new twist to my perception of the Navy.
| | |
| --- | --- |
| I was recruited in Lock Haven at the U.S. Post Office Navy Recruiting Station while I was in High School. I had applied at two colleges, Mansfield State and Peabody in Baltimore. Although I was accepted at Mansfield, I was sick of school, and decided to enlist in the Navy instead. So I enlisted in the high school graduate Airman Program while I was still in High School. After graduation I hopped a train at Lock Haven for Philadelphia. My parents and quite a few relatives were there to see me off. I took the oath at the Philadelphia Recruiting Station, and hopped a plane for San Diego for basic training, i.e. Boot Camp. I was not sure whether I wanted to be in the Aviation Program or the Music Program, but they said I could decide later. | |
San Diego Naval Training Center

Boot Camp:

After I enlisted at Philadelphia, PA, I went to boot camp at the U.S. Naval Training Center in San Diego, California. I enlisted as an Airman Recruit, and hoped to be an Air Traffic Controller. I also intended to audition for the Navy Band after enlistment. I auditioned with the Bandleader at the Naval Base San Diego, and was eligible to attend the USN School of Music in Washington DC. As graduation neared, there were no openings at the Air Traffic Controller school and they scheduled me for Aviation Electronics school, but I decided to go to the School of Music. Glad I did!

My first ship - HA!

(Notice there is no WATER around this ship. It is sitting on a "grinder" - that would be like a "parking lot" to you civilians.)
U. S. Navy School of Music:

I graduated from the U. S. Navy School of Music in 1961 when it was at the Anacostia Receiving Station in Washington D.C. The highlight for me was The Corner House and George's Singapore Slings. And the "Little Tavern" on the corner by the 11th Street Bridge - bags of those little hamburgers - yes! I'll never forget the first time I heard progressive Jazz by a professional group. Bob Hores took us to Abart's International Studio of Jazz downtown to hear Horace Silver. WOW! Barsamian was my piano instructor - can't remember my drum instructor's name. Hey, and John Coltrane went to SOM, and to The Melody Masters" unit band in Hawaii in 1946 - Wow!

Jim Knouse and me
Hayloft, Wash DC 1960



A drinking buddy, Joshua James Knouse of the USS Rockville PCR-851

| | |
| --- | --- |
| Sea Duty: After I left the School of Music, I was assigned to Unit Band #194, with the Commander, Carrier Division Four (COMCARDIV 4), Admiral Hogle, and later Admiral Hyland. We served on the USS Kitty Hawk, USS Franklin D. Roosevelt, USS Shangri-La, and USS Forrestal, We served in the Cuban Missile Crisis, Project Mercury, Dominican Republic Operations, a 9 month Med Cruise, the Carribean Islands and a tour around South America to the Pacific Fleet. | |

My 4th Assignment


We had some fun on The Hawk - Crossing the Equator ceremony - blast in Rio - rough seas around the Horn - enjoyed Valparaiso - gig at the International Trade Fair in Lima . . .

My 5th Assignment



Did the civil war thing at Dominican Republic on the Rosie . . .

My 6th Assignment



Cruised the tropics on the Shang . . .

I can't remember the exact dates when I was on the Shang, but on 6/12/2001 Glenn Doebler wrote to me "last time I saw you was august 1962 mayport fla uss shangri-la cva 38 you was coming on and i was leaving..." I don't know if Glenn is correct on his date. I remember talking with him a few times in the chow hall too. Glenn is a retired MCPO, MM I think, and he moved back to Lock Haven after retiring. I met him a few years later when visiting Lock Haven. I called him and we met at the American Legion and spent a few hours together. I'm glad I got to see him before he passed away about four years ago. - kp 10/19/2013

Glenn K. Doebler Jr.
July 21, 2009
Glenn K. Doebler Jr., 67, of 421 Church St., Lock Haven, died July 19, 2009 in the Williamsport Hospital. Burial will be at the convenience of the family.

My 7th Assignment


Made a Med Cruise, Project Mercury and Cuban Crisis on the Forrestal . . .

| | |
| --- | --- |
| Collateral Duty Assignments: During at-sea operations, musicians were trained and assigned to collateral duty, such as Military Police, Air Intelligence (security clearance required), Surface Plotting and Flag Administration. I served in each of these billets at one time or another. I found my work in the Air Intelligence message center most interesting, then surface plotting. The MP duty was limted pretty much to in-port ship parties, and flag administration was basically putting presentations/briefings together for the Admiral and other senior staff officers. | |

Some of our ports of call . . .

Norfolk, Virginia; Guantanamo Bay, Cuba; Port-of-Spain, Trinidad; Port-of-Prince, Haiti; Rio de Janero, Brazil; Valpariso, Chile; Callao/Lima, Peru; Acapulco, Mexico; San Diego, California; San Francisco, California; Roosevelt Roads, Puerto Rico; Mayport, Florida; Dominican Republic; Cannes, France; Naples, Italy; Palermo, Sicily; Genoa, Italy; Athens, Greece; Rhodes; Beirut, Lebanon; Barcelona, Spain; Crete; Livorno, Italy; Gibraltar, Portugal; New York, NY (it's a hell of a town)

| | |
| --- | --- |
| | Shore Duty: After I left Admiral Hyland's COMCARDIV 4 band (he invited me to go to Viet Nam with him - but I would have had to extend), I went to the CINCLANTFLT band in Norfolk to finish my active duty. It has changed its name twice since then - to the Atlantic Fleet Band, and now the Fleet Forces Band Atlantic. The Bandleader was Chief Warrant Officer George Briley. They sent units on tours, and we did colors and taps every day, concerts, and gigs. I played mostly drums there on official gigs, and Kenny Drew did most of the keyboard gigs. (I know, there's several Kenny Drews playing keyboards. Can't find a link to mine.) I played keyboards in two civilian combos, and did a lot of off-duty gigs around Tidewater. Mr. B said he would guarantee me shore duty for the next 6 years if I would ship over. HA! Bye Mr. B. . . finished out inactive reserve and discharged in '66. |

So when I was relieved from COMCARDIV 4 sea duty and headed for a little shore duty, they gave me three choices. Of course I chose Philadelphia as my first choice to be closer to home, but I ended up in Norfolk. Bob Hores got Philadelphia. I think Larry Treaster, Paul Sipe and Jerry Brown went to the Great Lakes Training Center. Joe Gallagher went back to Washington on the SOM Staff. I think Jack Ingram went to the Academy Band at Annapolis, and Bob Bowman went to San Diego. I don't know about the rest of our guys.

About a week ago I visited The Navy Yard in Philly to see the Forrestal for the last time (Jan 2011) - before they deep six her. Got a couple pix and emailed them to some of the guys. Sorry to see her go down-would have made a great museum for Baltimore. I don't think the Navy gets it. If they had more museums around, maybe more young kids would get interested in the Navy-increase enlistments?

Today, 24 Oct 2013, I read news that Navy sold USS Forrestal for one cent, i.e. $0.01 !!! (Guess I could have bought it . . . but where would I put it?) She'll be leaving Philadelphia Navy Yard for Texas to be scrapped. Hope I get to see her leave . . .

| | | |
| --- | --- | --- |
| | | |

Here's some of the Countries I've visited . . . there may be a couple others, but I can't remember . . . Navy got me to 17 of them.



Bermuda



Brazil



Chile



Cuba



Cyprus



Denmark



Dominican Rep



England



France



Gibraltar



Greece



Haiti



Ireland



Italy



Lebanon



Mexico



Peru



Portugal



Puerto Rico



Sicily



Spain



Sweden



Trinidad



United States
On Monday 6/16/2008 we visited the Navy Yard in DC, and MUCS Chris Erbe of The Navy Band showed us around the Sail Loft. We appreciated his time and courtesy. He pointed out several neat things on the base, e.g. the Geedunk, the USS Barry DD-933, the Navy Museum, etc., and Diane and I and our granddaughters had a great time. If you have not heard the United States Navy Band, you really need to. They're great!
Go Navy!!!

A few other ships I've been on . . .

Quick overview: was on the Recruit when I was in boot camp in San Diego, learned very little, but didn't get sea sick; was on the Forrestal for a year or so for a Med Cruise, Project Mercury, Cuban Crisis and other operations; was on The Hawk for three months (8/61-11/61) for it's maiden voyage from Philadelphia around The Horn to NAS North Island/SanFrancisco; was on the Shang and Rosie for a few months each, including Dominican Republic operations; was on the Bailey in Roosevelt Roads PR and highlined to a carrier from it; was on The Hermes in the Med for a couple days when on the Forrestal with COMCARDIV 4, their rum was ok, but hold the grog; also on the Enterprise for a staff transfer in the Med; toured the Midway with my father in the 1950's at Alameda, probably what got me most interested in joining the Navy - was also impressed by a Marine Band in the Golden Gate Park in San Francisco while there; toured the Battleship New Jersey with my wife in Camden a few years ago, brought back many memories. Thinking about seeing the Forrestal at Newport one more time before they sink her. Boo. Would have been a great museum for Baltimore. Would like to have seen 02-167-2-L one more time.

Fart Sack - remember that? How about be-bopper, bird farm, blanket party, bogey, boot, brass, chit, crow, ditty bag, deep six, douche bag, fantail, foc'sle, geedunk, grinder, head, jarhead, navy shower, piece, pogey bait, pollywog, port and starboard, squared away, rack, saltpeter, scuttlebutt, shellback, shit can, shit-on-a-shingle, smoking lamp, tin can, watch, etc. I can't remember a fraction of it! If you do a search for "Navy Slang" use caution - it can contain some pretty salty language!
Collateral Duty, i.e. What else do be-bop's do? The men and women of the Navy bands perform many other duties in addition to their main billet of musician. For example, at all band locations they provide band support activities such as Public Affairs, Supply, Facilities and Auditions, instrument repair and maintenance, music library, etc. For Sea Duty some who qualify receive secret clearance to support the Flag Officer's Air Intelligance office at sea, and they are trained to staff Surface Plotting stations, serve in the Flag Administration office, provide Shore Patrol services, or in combat or crises may support Medical personnel in transporting wounded and killed. Many military musicians carry weapons and serve with combat forces in battle. (Please don't shoot the piano player!)


U.S. NAVY Unit Band #194 - COMCARDIV 4 - onbd USS Forrestal CVA-59 - 1962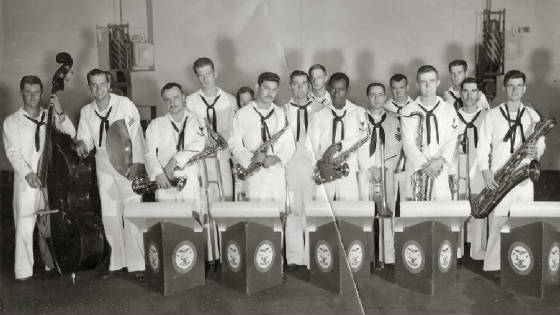 US NAVY UNIT BAND #194 COMMANDER CARRIER DIVISION FOUR 1962 ONBD USS FORRESTAL CVA-59
(L/R) Bob Bowman (Bass), Steve Bergstrom (Traps), Dr. Bob Hores (Tenor Sax), Paul Sipe (Bass Bone), Shorty Parker (Trumpet), Sal Salazar (Alto Sax), DJ Dechesser (Trombone), Bob Migacz (Trumpet), Jerry Brown (Alto Sax), CWO Jack Ingram (Bone), Joe Pryor (Trumpet), Dr. Jack Caldon (Tenor Sax), Corky Corcoran (Trumpet), Larry Treaster (Bone), Alfie Hodge (Bari) - [Absent] Bandleader Joe Gallagher MUC (Bone) & Ken Poorman MU3 (Keyboards/Drums)



So here's my bit about Gazela . . .
On 28 August 2008 Di and I took our granddaughters and two of their friends to Philly for the day. First we went to
St. John Neumann's Shrine
, then to
The Borse
for lunch and shopping, to
Independence Mall
, and for a tour on
Ride The Ducks
. Ironically, the day before I got an email from Capt. Bob Long about his week of sailing out of Tolchester, down past Maryland and Virginia, which included a photo of the
Gazela
(above) he took as he passed her a few days ago off of Virginia. Then today we passed Gazela here on the Delaware while riding The Ducks, as she returned to her homeport in Philly, and I took a photo (below). So in two days, I got two photos of Gazela. Omen, the sea is calling me back? I hope not, unless Mother Navy would let me go to Iraq on a CARRIER! Chow 22 hours a day. I would like that. Hold the pushups, situps and jumping jacks! Maybe Capt. Ziggy would take me back to sea on Paula's 2nd Diamond, and instead of pushups, I could do Budweisers! Hey Now. While on The Ducks cruise, we also saw the
USS New Jersey
in Camden (which is a great tour too), the
Moshulu
(go aboard for an interesting setting for fine dining), and Admiral Dewey's flagship, the
USS Olympia
(go below deck-sailors in those days must have been really short).
Penn's Landing
is a great place to visit. Don't miss going into the
USS Becuna
(feel what it's like to live in a submarine).
| | | |
| --- | --- | --- |
| | | |


Navy Bands serve not only to add dignity and pride to official military and governmental ceremonies, but inspiration for our troops on land and at sea - and - they are truly ambassadors of good will around the world, at home and abroad - The United States Navy Band - and all other military bands and their support units:
U.S. Navy Fleet Bands

Navy Band Northeast @ Newport, RI

Navy Band Mid-South @ Millington, TN

Navy Band Southeast @ Jacksonville, Fl

Navy Band New Orleans @ New Orleans, LA

Navy Band Great Lakes @ Great Lakes, IL

Navy Band Northwest @ Seattle, WA

Navy Band Southwest @ San Diego, CA

U.S. Fleet Forces Band @ Norfolk, VA

Pacific Fleet Band @ Pearl Harbor, HI

Sixth Fleet Band @ Naples, Italy

Seventh Fleet Band @ Yokosuka, Japan

Allied Forces Band Naples @ Naples, Italy
OTHER NAVAL BAND ORGANIZATIONS
| | |
| --- | --- |
| | |
| | U.S. Merchant Marine Academy Band |
| | |

| | |
| --- | --- |
| U.S. Navy Manual for Buglers | |

My other MILITARY webpages . . .
Here are some interesting Navy links, and links to the ships and shore stations I have served on, or visited . . .
| | | |
| --- | --- | --- |
| INTERESTING | SHIPS | & STATIONS |
| | | |