| | | |
| --- | --- | --- |
| Ken Poorman's music stuff . . . | | |

Hey ya'll - remember Washington DC in the 60's? Abarts; Ben's Chili; The Corner House; The Hayloft; The Rocket Room; The Blue Mirror; The Rendezvous; the Little Taverns;

OUR DANCE BAND!!!

TRUMPETS:
Ted Zelio; Ray Corcoran; Shorty Parker; Joe Prior; Bob Migatz


TROMBONES:




Jack Ingram; Paul Sipe; Larry Treaster; DJ Dechesser; Joe Gallagher




SAXOPHONES:




Bob Hores; Jack Caldon; Jerry Brown; Sal Salazar; Al Hodge




RHYTHM SECTION:




Bob Bowman Bass, Steve Bergstrom Drums; Ken Poorman Piano

Our Dance Band in D.C.


Getting rehearsed to go on the road for an 18 month tour, Carribean Islands, South America, Europe & U.S.
Like Bossa Nova?
Check out Bossa Nova Radio →
Here are some of the bands I've played with . . .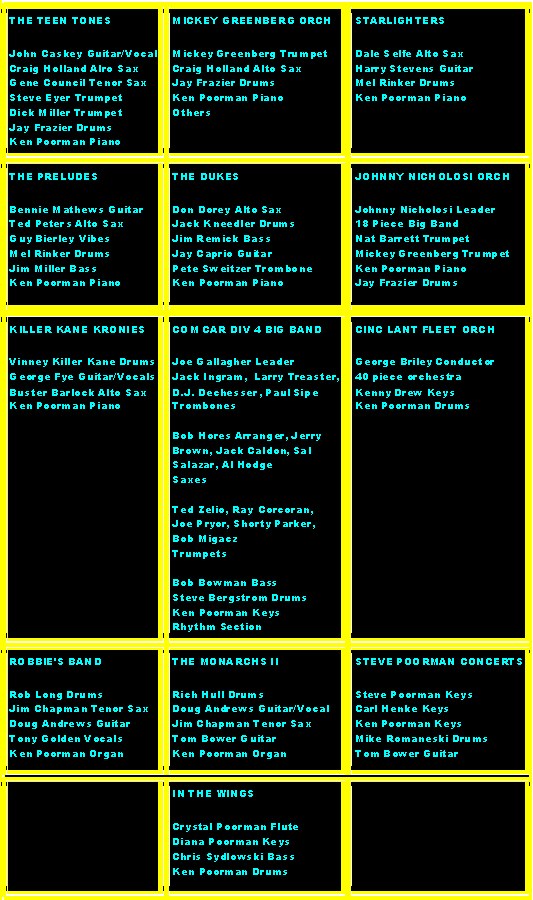 BLACK RAVENS - oops, I forgot the Black Ravens, the Flemington PA Junior Drum & Bugle Corps. I played Alto Bugle with them. We practiced on the street in front of the Flemington Fire House. That was in the late 1950's. Snazzy uniforms.
Info on some of our guys, who were still around last time I checked (2013):
Doug Andrews, Dean of Cultural Programs, South Florida Community College, Lakeland FL
Steve Bergstrom, living in North Miami Beach FL
Bob Bowman, Retired from USPS, living in San Diego CA (from Lebanon PA)
John W. Caldon, PhD - Dr. Jack Caldon is retired Superintendent of Schools, Salem NH
Robert G. Hores, DME - Dr. Bob Hores is retired, Faculty of Berklee College of Music, Boston, MA, living in FL
Shorty Parker, think he's around, don't know where!
Ken Poorman, Retired from Bell Atlantic/Verizon, Philadelphia PA
Steve Poorman, living in Lock Haven PA & Pompano Beach FL
Joe Prior, living back home in Tenessee
Larry Treaster, Retired from Steel Company, living back home in Lewistown PA
Ted Zelio, Ski Instructor, Jazz Musician, living in Colorado






And some of the places I've played . . .
Played a lotta gigs around the Lock Haven PA area. Can't remember all the places anymore. Castanea School, Renovo 7th Street School, Renovo YMCA (went to Socky's after), Teen Canteen at Lock Haven City Hall, BENHS, LHHS, Paper Mill Picnics at Hecla Park, Hershey Park, North Bend Hotel, Elks Country Club at Young Woman's Creek, Jesse Hall State Park, Bar at Crossfork (?), Casa Loma, Camp Kline, Lock Haven State College/University, TKE, Lamda Chi Alpha, Student Union, Smith Dorm, Price Auditorium, LHHS Auditorium, Rodgers Gym, Lock Haven YMCA (remember Alma Jean Copenhaver & Carthy Slopey dancing?), Beth Yehuda Synagogue, American Legion, Moose, VFW, Elks, Sons of Italy, Town Tavern, Mohawk Motel, Keystone Motel, Fallon Hotel, Hilltop Tavern, the old Riverside (Island Route), the Jersey Shore Eagles, Elks and Moose, Tony & Bert's, Walnut Street Hotel, Shirk Hotel, Avis Legion, Waterville Hotel, Wagon Wheel in Cammal, Pine Creek Inn, The Flagstone Bar, Legion in South Williamsport, The Grotto, BPOE and Moose in Williamsport, Jack's Susquehanna Hotel, The Oaks, The Lymehurst, Lycoming Hotel, Dante Club, the Scottish Rite Auditorium, Lewisburg Federal Penitentiary Officers Club, Penn State at State College, Centre Country Club, Elks Country Club at Boalsburg, State College Elks intown, Bellefonte Elks, the Wayside Inn, Hublersburg Hotel . . . and a lot of private parties! Was I glad to get out of Central PA. If I can find pix of any of these places, I'll post them here.
| | | |
| --- | --- | --- |
| | | |
Not to mention out of USA places I've played, e.g. Bermuda, London, Barcelona, Cannes, Athens, Genoa, Naples, Palermo, Beirut, Lima, Valparaiso, Rio, Port of Spain, Port Au Prince, Cuba, Puerto Rico, etc.
Some of the pros I've met and/or heard live . . . Horace Silver, Jimmy Smith, Diana Ross, Buddy Rich, Maynard Ferguson, Ray Charles, Kai Winding, Natalie Cole, Ramsey Lewis, Diane Schuur, Gary Burton, Papa John DeFrancesco, Joey DeFrancesco, Dick Johnson . . .

SOME OF OUR LOCK HAVEN MUSICIANS . . .
| | | | | |
| --- | --- | --- | --- | --- |
| Greenberg | Romanesky | | | Dorey |
| | | | | |
| Frazier | | | | Linn |
| | | | | |
I remember some of the most popular or most requested songs we were playing at different times, different places, e.g. Bill Haley's Rock Around the Clock, Buddy Holly's Peggy Sue & That'll Be the Day at the Renovo gigs at the 14th Street School in the 50's with John Caskey's group (remember going to Socky's on Erie Avenue after the gigs); Night Train, Harlem Nocturne and Honkey Tonk, at the Teen Canteen in Lock Haven with the Teen Tones; Sea of Love, Put Your Head On My Shoulder and Beer Barrel Polka at the Eagles in Jersey Shore with George Fye; C'est Si Bon, How High The Moon, Paper Moon, Angel Eyes, Satin Doll and Shiny Stockings with the Navy Bands; Solitude and Bye Bye Blackbird with The Preludes; Mack The Knife with The Dukes; Louie Louie and Wad I Say, Taste of Honey, Wooly Bully and Watermelon Man at The Mohawk with Robbie's Band; I Saw Her Standin There, Yesterday, Tambourine Man, Can't Buy Me Love, Day Tripper, Twist & Shout with The Monarch's at The Elks Country Club in State College/Boalsburg; Mony Mony at the North Bend Hotel gigs; and . . .

I remember more of the songs we played, old standards, show tunes, etc. but can't remember where or when, e.g. I'm Confessin' (That I Love You), Caravan, I Can't Get Started, Honeysuckle Rose, Unfogetable, Stardust, Misty, Blue Moon, Georgia, There Will Never Be Another You, Billie's Bounce, Ornithology, Bernie's Tune, A Night in Tunisia, Round Midnight, Polka Dots And Moonbeams, Corcovado, Girl From Ipanema, Once In A While, In The Mood, My Funny Valentine, Stella By Starlight, Moon River, I Left My Heart In San Francisco, Sentimental Journey, Spanish Eyes, Stardust, Stormy Weather, Spinning Wheele, Take Five, Cry Me A River, Moonlight In Vermont, Fly Me To The Moon, Moonglow, Tenderly, When Sunny Gets Blue, Lullaby of Birdland, Moanin, Green Dolphin Street, Besame Mucho, The Shadow of Your Smile, A Foggy Day, When The Saints Go Marching In, Smoke Gets In Your Eyes . . . I can even remember some of the words: They, asked me how I knew, Racoon shit is blue, I of course replied, brother you've been fed, Racoon shit is red. Oh yeah, see the girl all dressed in blue , , , never mind. They didn't let me sing much. I can almost remember the changes to these tunes as I think about them. I'll bet there are thousands more I've played. I used to be able to play a four hour+ gig and never repeat the same song.
| | | |
| --- | --- | --- |
| | | |
I played a lotta gigs with Jim Chapman and Jay Caprio years ago . . . here they are now . . . still playing . . .
| | | | | |
| --- | --- | --- | --- | --- |
| | | | | |


I played a lotta gigs with Bob Bowman in the Navy, early '60's . . . and here he is now . . . still playing in 2013 . . .







I was watching the military channel the other night (2013) and saw the commissioning ceremony for a neuclear sub at Newport News. It reminded me that I played for a commissioning/launching of a new sub at Newport News in 1963 with the CINCLANTFLT Band (now Fleet Forces Band) . . . a nice memory. . .
Here are some musicians (and others) who have contacted me after running across my website . . .
| | |
| --- | --- |
| | Sam Hubbard RADM, Ret. |
| | |
| | Dick Toner RM3 |
| | Brent Packman, MU1, Ret. 1960-1985 |
| | Terry Chesson (Sax - USN) |
| | Doug Forziati MUMC, Ret. |
| | Ed Hughes FTMC, Ret. |

Courtesy of U.S. Navy
Master Chief Petty Officer Doug Forziati carries a folded American flag after it was passed during the "Olde Glory Presentation," a naval retirement tradition in which the text of the ceremony is read to music. It is divided into the number of segments needed to represent each of the ranks held by the retiring member during his or her career.

Master Chief Hughes


US Navy, Retired