Ken Poorman's info re: Commander-In-Chief Atlantic Fleet (CINCLANTFLT) . . . Norfolk, VA
| | | |
| --- | --- | --- |
| | 28 FEBRUARY 1963 TRANSFER NO.538-63 KENNETH R. POORMAN MU3 FROM COMMANDER CARRIER DIVISION FOUR (Unit Band #194) ONBD USS FORRESTAL (CVA-59) AT NORFOLK VA; TO COMMANDING OFFICER, FAU, CINCLANTFLT, NAVBASE, NORFOLK, VIRGINIA (Band #85) TRANSFER CODE NO. CVA59/150800/538-63/MAR63/jdv BY J.F. NAGY, LTJG, USN PERSONNEL OFFICER. | |

Here is some info about CINCLANTFLT with whom I served in 1963 . . .



Unfortunately, I don't have any personal photos of CINCLANTFLT, because I lost most of my photos in the 1972 flood. A few people have given me pix of my Navy days, as I had shared a few with them long ago.

Commander-In-Chief
US Atlantic Fleet


CINCLANTFLT
Commander
US Atlantic Fleet


COMLANTFLT

After I left the CINCLANTFLT Band, the command changed its name to Commander, U.S. Atlantic Fleet. I'm not sure if this is the official patch/logo for that command. If anyone from the Fleet Forces Command has an old patch or logo from the former COMLANTFLT, would you please email a copy to me? Thanks!
| | | |
| --- | --- | --- |
| Now it changed its name again, to United States Fleet Forces Command, and the USFF Band uses a modified version of the command logo. I'm sure the band sounds as good as it always has, and I think it's the largest field band in the Navy. It was very good duty. | | |

| | | | |
| --- | --- | --- | --- |
| | When I was with CINCLANTFLT, he was also Supreme Allied Commander Atlantic (SACLANT). There was a change of command when I went there, and ADM Harold Page Smith relieved ADM Robert L. Dennison. | | |
Now I understand that SACLANT morphed too. Ok, I give up. If you can understand any of this, you should be an Admiral!

Pix of SACLANT Headquarters . . .
Our Ceremonial Band & Marine Detachment@Colors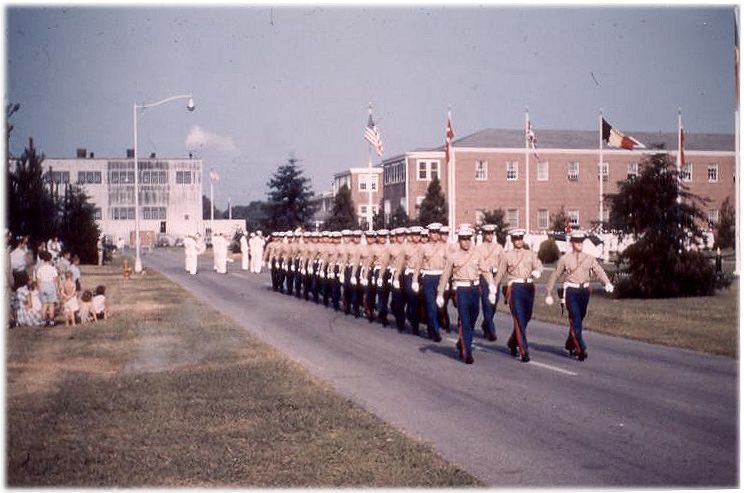 | | | | |
| --- | --- | --- | --- |
| | So what did I like most about working at CINCLANT/SACLANT - marching down to these flag poles at 0745 every morning for Colors; or tramping around that big grassy field; or rehersals on the stage/setting up/tearing down; or inspecting the barracks; or taking my whites to the base cleaners; or playing official gigs, concerts, parades in Norfolk, Christenings at Newport News Shipyard, the O Clubs, the CPO Clubs and other military clubs in the area; NOT! And the Gedunk didn't even sell beer (I don't think), but they had good burgers. I don't think I was ever in the chow hall, not even once. Our band room/building was right close to the Gedunk. Mr. Briley, CWO3 George L. Briley, our bandleader, and the whole band would be on that side street waiting for me every morning as I raced in from Azalea Garden Apartments in my 56 Dodge Custom Royal, loaded, and ran up to the drumline. They usually had my drum sitting on the street waiting for me - and I usually made it right at the last possible minute. I could see Mr. B griting his teeth waiting and the Chief sweating and all red necked. I don't know why Mr. B tolerated me like that, he was usually very tough on everyone, even the Chief. He had sent more than one guy over to the Marine Barracks for a little special training, Ha. I rememer the first day I met him. My hat back on my head, my shoes unshined, and the sleeves rolled up on my tailored dress blues with the bright silky mermaid inside one sleeve cuff, and the brightly colored dragon on the other. Totally salty, un-squared away - Ha - just off a 9 month cruise - a true "horned" shellback! I thought the Chief was going to have a stroke when I walked in to Mr. B's office to report for duty. I'm sorry Mr. B. (After a tour with me, his invitation to reenlist might have been just a little half-hearted . . . Ha.) | | |
| | George L. Briley, Bandleader | | |
| | | | |
| --- | --- | --- | --- |
| | | | |
| | | | |
| | | | |
| | Speaking of my old Dodge, here's one like it, same color, but mine was a four door. This was the best car I've ever had. It was heavy, tight, quiet, smooth riding, big engine, power windows; I loved it! But . . . I smoked in those days . . .and one day, someone came to my door at Azalea Gardens, Caernarvon Drive (Robin Hood Drive now), and asked if the red and black Dodge was mine. I said yep, and he said "it's on fire." Well, it burned to a crisp. By the time the fire company put it out, it was totalled. Bummer. Apparently on the way home from CINCLANTFLT, I threw a cig out the window on Military Highway, and it blew in the open back window. I loved that car. Got it from Adam Dickey Dodge in Lock Haven, Pa. Dad picked it out for me. He was smarter about such things. I have picked some serious lemons on my own. | | |
| | |
| --- | --- |
| | |
| So there is no more CINCLANTFLT . . . | |
| | |
| Now my old CINCLANTFLT Band is the U.S. Fleet Forces Band . . . | |
| | |
| | |

| | |
| --- | --- |
| Since I don't have any personal photos of my days at CINCLANT/SACLANT, I'll put a few Navy file photos of the band here. I have to say I did enjoy doing colors when we could play a Sousa March on the way down the street. We had a good drum line. Made you want to fight, the hairs stood at attention, you can't beat a good Sousa March! | |
| Atlantic Fleet Concert Band | |

Sempre Fidelis by The Marine Band
I was just remembering when I saw these pix, that when I first went to CINCLANT/SACLANT, I was surprised to see the number of foreign officers and troops. It was hard figuring out who to salute. You sometimes couldn't tell a foreign Sergeant from an Officer. An officer chewed me out once for not saluting. Ha. Very confusing. There were a lot of ceremonies around these flagpoles - but we went to other bases and towns for ceremonies and parades too.

| | | | | |
| --- | --- | --- | --- | --- |
| Check out the Band's social sites → | | | | |
PAST COMMANDERS IN CHIEF, U.S. ATLANTIC FLEET
Rear Admiral Robley D. Evans Mar 1905-May 1908
Rear Admiral Charles S. Sperry May 1908-Mar 1909
Rear Admiral Seaton Schroeder Mar 1909-Jun 1911
Rear Admiral Hugo W. Osterhaus Jun 1911-Jan 1913
Rear Admiral Charles J. Badger Jan 1913-Sep 1914
Rear Admiral (promoted to Admiral in 1915) Frank F. Fletcher Sep 1914-Jun 1916
Admiral Henry T. Mayo Jun 1916-Jul 1919
Admiral Henry B. Wilson Jul 1919-Jun 1921
Admiral Hilary P. Jones Jun 1921-Dec 1922
History shows a continuation of the title Commander in Chief, Atlantic Fleet, until late 1922 when the title Commander Scouting Force was used. No further utilization of the title was made until 1 February 1941, when the United States Fleet was reorganized to form the U.S. Atlantic, U.S. Pacific and U.S. Asiatic Fleets, each with a four-star commander in chief.
Admiral Ernest J. King 01 Feb 1941-30 Dec 1941
Admiral Royal E. Ingersoll 30 Dec 1941-15 Nov 1944
Admiral Jonas H. Ingram 15 Nov 1944-26 Sep 1946
Admiral Marc A. Mitscher 26 Sep 1946-03 Feb 1947
Admiral William H.P. Blandy * 03 Feb 1947-01 Feb 1950
Admiral William M. Fechteler * 01 Feb 1950-15 Aug 1951
Admiral Lynde D. McCormick ** 15 Aug 1951-12 Apr 1954
Admiral Jerauld Wright ** 12 Apr 1954-28 Feb 1960
Admiral Robert L. Dennison ** 28 Feb 1960-30 Apr 1963
Admiral Harold P. Smith ** 30 Apr 1963-30 Apr 1965
Admiral Thomas H. Moorer ** 30 Apr 1965-17 Jun 1967
Admiral Ephraim P. Holmes ** 17 Jun 1967-30 Sep 1970
Admiral Charles K. Duncan ** 30 Sep 1970-31 Oct 1972
Admiral Ralph W. Cousins ** 31 Oct 1972-30 May 1975
Admiral Isaac C. Kidd, Jr. ** 30 May 1975-30 Sep 1978
Admiral Harry D. Train, II ** 30 Sep 1978-30 Sep 1982
Admiral Wesley L. McDonald ** 30 Sep 1982-04 Oct 1985
Admiral Carlisle A. H. Trost *** 04 Oct 1985-30 Jun 1986
Admiral Frank B. Kelso, II *** 30 Jun 1986-04 Nov 1988
Admiral Powell F. Carter, Jr. 04 Nov 1988-31 Jan 1991
Admiral Paul David Miller 31 Jan 1991-13 Jul 1992
Admiral Henry H. Mauz, Jr. 13 Jul 1992-05 Oct 1994
Admiral William J. Flanagan, Jr. 05 Oct 1994-20 Dec 1996
Admiral J. Paul Reason 20 Dec 1996 -17 Sep 1999
Admiral Vern Clark 17 Sep 1999 - 23 June 2000
Admiral Robert J. Natter # 23 June 2000 - 24 Oct 2002
The title of Commander in Chief, U.S. Atlantic Fleet was in continuous use from February 1941 through 24 October 2002. In October 2002, Secretary of Defense Donald Rumsfeld directed that the title of "Commander in Chief" be reserved solely for the President of the United States. In a message to Naval Commanders in Chief, the Chief of Naval Operations directed a change of title to that of "Commander." Accordingly, on 24 October 2002 the title of Commander in Chief was discontinued and the title of Commander, U.S. Atlantic Fleet was established.
PAST COMMANDERS, U.S. FLEET FORCES COMMAND
COMMANDERS, U.S. ATLANTIC FLEET
Admiral Robert J. Natter 24 Oct 2002 - 3 Oct 2003
Admiral William J. Fallon 3 Oct 2003 - 18 Feb 2005
Admiral John B. Nathman 18 Feb 2005 - 22 May 2006
* In addition, served as Commander in Chief, U.S. Atlantic Command.

** In addition, served as Commander in Chief, U.S. Atlantic Command, and Supreme Allied Commander, Atlantic (a NATO post).

*** In addition, served as Deputy Commander in Chief, U.S. Atlantic Command. ADM Kelso relinquished this position on 16 Sep 86

# In addition, as of 1 October 2002, served as Commander, Fleet Forces Command.



PAST COMMANDERS, U.S. FLEET FORCES COMMAND
Admiral John B. Nathman 23 May 2006 - 16 May 2007
Admiral Gary Roughead 17 May 2007 - 28 Sep 2007
Admiral Jonathan W. Greenert 29 Sep 2007 - 23 July 2009
Admiral John C. Harvey, Jr. - 24 July 2009 to 14 Sep 2012
Admiral William E. Gortney - 14 Sep 2012 to Present
NOTE: The Scouting Fleet established in 1922 from CINCLANTFLT, was later renamed the Scouting Force. This fleet consisted mainly of older battleships and initially operated in the Atlantic. In 1931, it was redesignated as the "Scouting Force." At this time, it consisted of the remaining cruisers and destroyers that were not with the Battle Force and a "Training Squadron" of three old battleships and eight destroyers. This force operated exclusively in the Atlantic and Caribbean Sea. In 1932, the force was moved to the Pacific. In 1940 it survived the division of the Fleet into the U.S. Pacific Fleet and the Atlantic Fleet, and served in the early part of World War II as an umbrella command for task forces.

Commanders
John D. McDonald (1922 – 1923)
Newton A. McCully (1923 – 1924)
Josiah S. McKean (1924 – ?)
Ashley H. Robertson (1927 – ?)
Adolphus Andrews (circa 1939)

Here are links to some of my military band pages . . .