A few religious oriented memberships . . .Presently I'm most active in our Knights of Columbus Council, and our Fourth Degree Assembly. I'm Treasurer and Webmaster of our Council, and Membership Chairman this year (2008). I also attend 4th Degree meetings and functions, and am the District Warden for the Pennsylvania 27th District. I conducted VIRTUS "Protecting God's Children" sessions at our Parish for several years, and recently (2008) was hired by the Archdiocese of Philadelphia as a Compliance Auditor for our Safe Environment Program. Diane and I keep pretty busy taking our granddaughters to participate in many church and school functions, like altar service, math club, scouting, CYO sports, etc.


Knights of Columbus
Third Degree

Knights of Columbus
Fourth Degree

Free & Accepted Masons

Third Degree

Archdiocese of

Philadelphia

Protecting God's Children

Awareness Sessions

Ettorre Council 13662
Norristown, PA
Grand Knight 2009-10

Treasurer 2004-2009

Fr. Tomko Assembly
Bridgeport PA

Member

Hiram Lodge #616 F&AM
Altoona, Pennsylvania
Former Member

St. Francis of Assisi Parish

Norristown PA

Member

VIRTUS
Safe Environment

Program Facilitator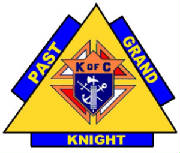 F&AM of PA / MASONIC BLUE LODGE
Third Degree Member of Hiram Lodge #616, Altoona PA1st Degree:
11/18/1977, Entered Apprentice
2nd Degree:
12/16/1977 Fellow Craft
3rd Degree:
1/27/1978 Master Mason
Proficiency Certificate: 2/24/1978 by Ray F. Knee, Worshipful Master & Richard D. Gunsallus, Secretary
I was a member of F&AM for more than 20 years, but resigned 21 April 1999. I was a member of Hiram Lodge #616 in Altoona, PA, and often attended the Quarterly Meetings in

Corinthian Hall

at the

Grand Lodge of Pennsylvania

in Philadelphia. I was Entered 18 November 1977, Crafted 16 December 1977, and Raised 27 January 1978. Thanks to Leonard Hite, George Russell and Ron Stacy for their mentoring and assistance. I still try to catch a Sunday Brunch at our local Masonic Temple occasionally though, i.e.

Charity Lodge #190

. And I love to take visitors through the

Masonic Temple

building at one North Broad Street in Philly. If you haven't been there, it is beautiful, and really worth seeing. It's open to public tours - in the meantime, you can take a quick tour of the lodge rooms

online here

.
KNIGHTS OF COLUMBUS
Third Degree Member of Rev. George P. Ettorre Council #13662
Fourth Degree Member of Father Tomko Assembly #934

1st Degree: 3/11/2004 at St. Francis of Assisi, Reverend George P. Ettorre Council #13662, Norristown PA
2nd Degree: 4/27/2004 at Monsignor Henry C. Schuyler Council # 1333, West Chester PA
3rd Degree: 5/2/2004 at St. Albert the Great, Huntington Valley PA
4th Degree: 5/29/2005 at The Hilton Hotel, King of Prussia, PA
I am a Charter Member of Reverend George P. Ettorre Council in Norristown PA. Our Knights of Columbus Council #13662 was charted on November 19, 2004. I have served as Treasurer of the Council for many years, and I am a Past Grand Knight. I chaired many committees and projects. I would like to thank Jim Cahill, Past Grand Knight for sponsoring and mentoring me, and for chartering our Council #13662.

A few fraternal club memberships . . .
Presently I live a block away from my current American Legion Post 901 Jeffersonville. They don't have a home association, and meet in the Jefferson Fire House. The Jeff Fire Co. folks know us pretty well . . . sometimes when Diane cooks, they stop up for the fire alarm she sets off. Occasionally I pop in at the VFW Valley Forge Post 7878 in King of Prussia. I usually pop in at the Lock Haven Elks too when I'm in town, but usually not more than once a year, and very few people there know me any longer - I moved out of Lock Haven in 1973. So the club I visit occasionally now is the Maenner Chor in Norristown.
King of Prussia PA
Post #7878
Life Member

Jeffersonville PA
Post No. 901

Lock Haven Lodge 183
Past Organist
Life Member