| | |
| --- | --- |
| | Here's some of my employment history |


GRUNT . . .

Getting started . . . When I was a Grunt, I had a few jobs while in high school . . . ughh , high school! Played with several bands in the area, picked up a few bucks on the weekends. Played nearly every Friday and Saturday night, and sometimes Sunday afternoons and evenings. Worked at The Sputnic Shop on Henderson Street in the evenings, cleaning up the place. Worked on our cousins' farm for a few summers, Doebler's Pennsylvania Hybryds, detassling seed corn. Worked at Mangan's Bake Shop, 5am to 8am, then after school 3pm to 5pm and Saturday mornings. Loved making doughnuts in the morning (and eating them ). Pies, cookies, sticky's etc. Yum. Worked at my Great Uncle Bill Stoddart's Town Tavern, in the kitchen, cleaning up, filling the coolers, etc. Liked helping Uncle Bill.


U.S. NAVY . . .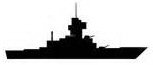 No more high school - YEA!

I enlisted in the Navy in 1960 for a few years and saw the world, a pretty good chunk of it at least. Learned a lot about people of the world

. Very good time. Was stationed in San Diego, Washington DC, Norfolk and Mayport. Made several cruises on aircraft carriers, USS Kitty Hawk, USS Forrestal, USS Roosevelt and USS Shangri La - a little ride on a Destroyer, the USS Kenneth D. Bailey. I was a musician with at sea co-vocs in air intelligence and surface plotting.

PIPER AIRCRAFT CORPORATION . . .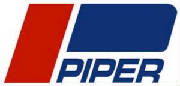 | | |
| --- | --- |
| | After Navy I worked at Piper Aircraft Corporation in Lock Haven. Knew quite a few people there. Some of my friends worked there also. Dad was a foreman at the Castanea Paper Mill and wanted me to work there, but Piper seemed more interesting to me. They let you take flying lessons with no charge for the plane, just the gas, they had Jimmy Chilcot's Restaurant in their parking lot, which I liked - Jimmy was a good egg, and a friend of my Uncle Bill Stoddart who owned the Town Tavern. It was a pretty relaxed atmospherre at Piper compared to the Paper Mill. Piper had a little riviting noise and pneumatic tool noise, but not the constant loud roar of paper machines like at the mill. I started working on the production line for PA30 Comanche fuselages, then moved to the PA23 line hanging noses on Aztecs (occasionally working in final assembly), and then moved upstairs building instrument panels for PA-30's . . . got laid off once for a couple of days - that was enough for me. So much for job security - started looking around. |

CLINTON COUNTY PA . . .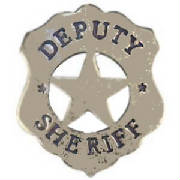 | | | |
| --- | --- | --- |
| | I served Sheriff Jack Boyle both as a Deputy Sheriff and as a Correctional Officer for Clinton County . . . bench warrant arrests, escourting prisoners to Court and to Danville State Hospital, guarding prisoners in the yard, supervising them on work details, feeding them in the slammer, guarding visitor days, dealing with prisioner issues, etc. | |
| | | |


| | |
| --- | --- |
| | 28 Years with the Bell System . . . |
BELL ATLANTIC-VERIZON

While at Piper, I was still submitting job applications.

Occasionally Piper had a layoff, and I knew I wanted to get with a more secure company, a large corp like AT&T, or the federal government. I had apps in at Lycoming Motors, PP&L, Bell Telephone, Rockview Pennitentiary and the PA State Police. All of a sudden I started getting calls. Within a two week period I got offers from Rockview, then State Police and lastly Bell Tel. I had a date to report to Hershey for the PSP Academy, I had already tested and had the physicial, when the call came from Bell Tel and I tested and interviewed there. Bell was the one I was most interested in. I thought it offered the most security, opportunity to advance, and to move around the Country. Bell of Pa also had a college program, so when I went to college I got my expenses paid by both the G.I. Bill and Bell Telephone. Bell turned out to be a good choice. Spent 28 years there and had a few good locations and jobs. I worked in Lock Haven for Bell for a few years while I was going to college, didn't like climbing poles in the wintertime much, then went into management and enjoyed living in Altoona for a few years, Arlington Virginia for Bell Atlantic a few years, then had a few good positions in the Philadelphia area. I spent a few years in HR, Internal Auditing, and quite a few in the legal and financial departments handling claims, insurance, and risk management. Got a lot of experience developing computer systems, both mainframe and PC. Then the downsizing offers got pretty attractive and I retired - now a Verizon pensioner.
BELL ATLANTIC CORPORATION . . .

Bell Telephone at 25 West Main Street, Lock Haven PA, where I started with Bell.

My desk at 170 Mt. Pleasant Avenue in Jersey Shore PA when I was the network technician for this #5 Crossbar switching system, N1, N2 & Lenkurt Carrier and Power Plant. No more climbing poles, YEA!

My desk at Beale Avenue in Altoona PA when I became the Claims Representative for 13+ Counties in Central PA. No more electronics - YEA!
Places I've been stationed at Bell Tel . . .
25 West Main Street
Lock Haven PA 17745

Logan Street
Lock Haven PA 17745

170 Mt. Pleasant Avenue
Jersey Shore PA 17740

3615 Beale Avenue
Altoona PA

901 Fayette Street
Conshohocken PA

One Parkway
Philadelphia PA

1310 North Courthouse Road
Arlington VA

One Parkway
Philadelphia PA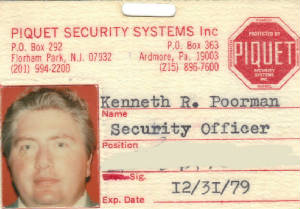 HARLEYSVILLE INSURANCE COMPANIES . . .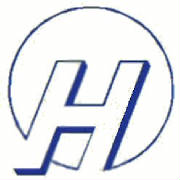 | | |
| --- | --- |
| | I went to Harleysville Insurance in 1992. I was in the Home Office Claims Department as a Claims Examiner for a while, then shifted responsibilities mostly to Medical Management and systems. I was a Supervisor in the Medical Disability Services Group when I retired from Harleysville in 2004. Met a lot of nice people there. Good Company. Now a Nationwide pensioner. |

KENPOORMAN.COM, LLC . . .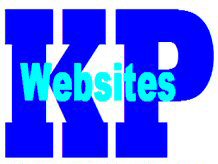 | | |
| --- | --- |
| | After retiring from Harleysville I ran a website business for a few years. I developed websites for small business customers in the King of Prussia area. I was also affiliated with digital.iway of Johnstown PA. |

ARCHDIOCESE OF PHILADELPHIA . . .

| | |
| --- | --- |
| | While I was retired from 2005 to 2008, I had a website business, and volunteered at our church. In 2008 a position opened at the Archdiocese of Philadelphia and I was a Compliance Auditor and system administrator from 2008 until I hung it up in February 2013. I travelled around the 5 County Area auditing our parish offices and schools. Since working 50 hours a week started affecting my health, I decided to leave the Archdiocese and announced it on the same day as Pope Benedict announced, 2/11/2013. |
RETIREMENT . . .

My job now (2013) is to manage retirement - YEA!

No more "To-Do" lists; but now it's Diane's "Honey-Do" list! Riding my motorcycle around in the Summer . . . and keeping my recliner warm in the Winter. Maybe I would consider taking a job . . . if it was:

1) part-time

2) in Valley Forge area

3) has a parking space

4) sitting at a computer . . .

5) call me - LOL!