| | |
| --- | --- |
| | Welcome to Ken Poorman's Navy Stuff . . . |

Basic Training

US Naval Training Center

Point Loma, San Diego CA
California, here I come . . .
Sunny San Diego NTC . . . what a beautiful place. I stood watches in this NTC Headquarters Building. Unfortunately, the NTC was one of the base closures. Nice that the NTC Foundation is planning a revival of the NTC base for a business center. Great place to do Boot Camp!

Boot Camp, San Diego:

After I enlisted at Philadelphia, PA, I went to boot camp at the U.S. Naval Training Center in San Diego, California. I enlisted as an Airman Recruit and hoped to go to Pensacola to train to be an Air Traffic Controller (AC). I also intended to audition for the Navy Band after enlistment. I auditioned with the Bandleader at the Naval Base San Diego and was eligible to attend the USN School of Music in Washington DC. As graduation neared, there were no openings at the Air Traffic Controller school for the AC Rating and they entered me in the AE school at Memphis TN, however, I decided to go to the School of Music for the MU Rating in Washington D.C. instead. Glad I did! So off goes the green stripes and on goes the blue.
Boot Camp in San Diego was quite an experience. I met a lot of new people in Company 345, and got a good dose of discipline - which I needed. I made Squad Leader (RPO3) which made it a bit better. If we did something perfect, we got a radio for the barracks. When we did something less than perfect, we stood at parade rest in the patio, with our piece held out at a 45° angle until 3 people passed out in the 110° heat, occasionally getting hit across the shoulders with a crop if our piece lowered a bit. Seems pretty funny now, but it wasn't then. The discipline was good for me.
BOOT CAMP . . . What . . . wash my own clothes? That was worse than the calesthenics every morning before breakfast at 5am, or marching everywhere, or rifle range in 110° sun, or rowing whaleboats, or gas class, or service week, or hell week, or swimming, or even fire fighting! But we made it through, with a little more disclipline than we had when we went in - ha.
| | | | |
| --- | --- | --- | --- |
| Prebble Drill Field | Fire Fighting School | Whaleboat Drill | Basic Seamanship |
I officially joined the Navy in Philadelphia on 21 JUL 1960. I had enlisted previously in the high school graduate airman program. I flew from Philly and arrived for boot camp at the Naval Training Center, San Diego, California. I was assigned to Company #345. Chief White, EMC, was Company Commander, and Capt. Lawrence B. Cook was Commanding Officer of the Naval Training Center. I made Recruit PO3, and was a Squad Leader. My designation was AR HS (AIRMAN RECRUIT). While at boot camp I applied for Air Control (AC) school but it had no openings, so they scheduled me for Aviation Electronics (AE) school at the Naval Air Technical Training Center at Memphis Tennessee; however, I didn't really want to be an AE, and I decided to go over to the Navy Band at San Diego NS, and audition with their Bandleader. He recommended me for the U.S. Naval School of Music, so I was able to get my striker (specialty) changed from AE to MU, as Musician seemed like a better alternative. My scores were: GCT 64 (High 2), ARI 59 (High 2), MECH 60 (High 2), CLER 55 (High 2), SONAR 70 (High 1), RADIO 62, SPECIAL TEST ETST 57, Qualified Swimmer Class III. My cousin Edie Hammond Rose and Steve Rose and their new baby came to visit me while I was in Boot Camp. I graduated with Company #345 and left boot camp on 3 October 1960 and flew to Washington DC, stopping at Lincoln Nebraska briefly (freezing wind in Whites).

US Naval School of Music

US Naval Station Anacostia

Washington DC
US Navy School of Music, D.C.:

I graduated from the U. S. Navy

SOM

in 1961 when it was at the Anacostia Naval Station in Washington D.C. The highlight for me was The Corner House and George's Singapore Slings. And the "Little Tavern" on the corner by the 11th Street Bridge - bags of those little hamburgers - yes. I'll never forget the first time I heard progressive Jazz by a professional group. Bob Hores took us to Abart's International Studio of Jazz downtown to hear

Horace Silver

. WOW! Bruce Barsamian was my piano instructor - can't remember my drum instructor's name. Hey, and

John Coltrane

went to SOM - wow. (I can't remember if that bridge was at 11th St, 12th St or 13th St. (?)

The U. S. Navy School Of Music at Anacostia has since moved to Little Creek VA and was renamed the Armed Forces School of Music. While at the Receiving Station I stood Cordon Duty for President J. F. Kennedy, and played gigs at Arlington National Cemetery, Bolling AFB, Andrews AFB, and the USO downtown DC, where I accidently pushed the piano off of the stage. Keys flew everywhere over the dancefloor. HA - what a gig! Bob Hores (now Dr. Bob Hores) took a few of us to Abart's in DC, heard Art Blakey's Jazz Messengers, Horace Silver... very cool! Had a lot of good nights at George's Corner House in Anacostia! Ate many bags of those little hamburgers at the Little Tavern up by the 13th (11th?) Street bridge.

After arriving in Washington DC, I did about 3 weeks of Temporary Assignment Duty (TAD) at the Anacostia Naval Station. I pulled mess duty while there. On 21 OCT 1960 I was assigned to the U.S. Naval School of Music, Washington DC, where I graduated from the Basic Course on 24 July 1961 after 39 weeks of full time training. At that time, the school was located at the Anacostia Naval Station. It has since become the U.S. Military School of Music in Little Creek, VA. In addition to music theory and military training, personal training included keyboard and percussion; and practicum included concert band, marching band, big dance band (18 pieces) & combo. While stationed in DC, I played duty gigs at the U.S.O., the Bethesda Naval Hospital (MD), the officers club at Bolling Air Force Base, and the Aero Club at Andrews Air Force Base (MD). We also played funerals at Arlington Cemetery, and other Honors details. I visited & sat in with The Navy Band at the Washington Navy Yard where I had acquaintances, e.g. Ed Barton, and I also played off duty honkey tonk piano at a rathskeller in D.C. I remember a duty gig at the USO on 16th Street where I dropped a piano off of the stage, and the top came off and keys flew all over the dance floor. Later, on the Kitty Hawk's maiden voyage, Joe Gallagher wrote about dropping that piano on my Subpoena to the equator crossing ceremony - funny. . . Occasionally I flew from Lock Haven into Anacostia NAS or Bolling AFB with Navy Commander Tom Price in a Navy Apache. He taught me to fly it, except for landing at Anacostia. Tom was Navy's liason with Piper Aircraft in Lock Haven PA (where I went to work immediately upon leaving the Navy). While I was at Anacostia, on 20 JAN 61 JOHN F. KENNEDY was sworn in as the 35th President of the United States. JFK was the first President of US with prior naval service. I remember how proud I was to be there. I stood cordon duty for him on Pennsylvania Avenue, and he and Mrs. Kennedy passed by me sitting on the back of an open convertible limo, acknowledging the crowds.

| | | |
| --- | --- | --- |
| | | |
| | I can't remember the names of the streets around the Anacostia base in 1960, but I remember a few street names, i.e. Glebe Road, Suitland Parkway, 13th Street, Anacostia Drive, Mischer on the base . . . not sure if the "Little Tavern" was next to the South Capitol Street Bridge, or the 11th St. Bridge (or 12th, or 13th, ha) - can't remember. Can't even remember the name of the streets at the corner where George's Corner House was located. When I went to the SOM in 1960 it was at the US Naval Receiving Station, Anacostia DC; however in later timess the Naval Station was merged with NAS Anacostia and the Bolling Air Force Base, and is now called Joint Base Anacostia-Bolling (JBAB). Wish I could find a photo of the old NRS main gate. Wish I could find someone who could make a Singapore Sling like George could. | |
| | | |

Commander Carrier Division Four

Norfolk VA

Sea Duty with COMCARDIV 4:


After I left SOM, I was assigned to COMCARDIV 4 Unit Band #194: MUC Joe Gallagher (bandleader/bone); Ken Poorman (keys/drums), Bob Bowman (string bass/tuba), Steve Bergstrom (drums); Bob Hores (arranger/tenor), John "Sal" Salazar/alto, Jerry Brown/alto, Jack Caldon/tenor & Alfred Hodge/bari (saxes); Jack Ingram/bone (LPO), Paul Sipe/bass bone, DJ Dechesser/bone, Larry Treaster/bone (trombones); Bob Migacz, Harold "Shorty" Parker, Joe Pryor, Ted Zelio & Ray "Corky" Corcoran (trumpets). We relieved COMCARDIV 4 Unit Band #146 on USS Forrestal.

During at-sea operations, musicians were trained and assigned to collateral duty, such as Military Police, Air Intelligence (security clearance required), Surface Plotting, and Flag Administration. I served in each of these billets at one time or another. I found my work in the Air Intelligence message center most interesting, and I liked surface plotting as well. The MP duty was linited pretty much to in-port ship parties, and flag administration was basically putting presentations or briefing materials together for the Admiral or other senior officers in the Flag group.

Our Unit Band #194 was stationed on four ships:

USS KITTY HAWK CVA-63

Crossed Equator
Lat. 00⁰-00' Lon. 39⁰-30'W
22 Sep 1961

Rounded Cape Horn

8 Oct 1961

Ports of Call with COMCARDIV 4:



Sea duty brought our Unit to many homeland and foreign ports, e.g, Norfolk, Virginia; Portsmouth, Virginia; Alameda, California; Guantanamo Bay, Cuba; Port-of-Spain, Trinidad; Port-of-Prince, Haiti; Rio de Janero, Brazil; Valpariso, Chile; Lima, Peru; Acapulco, Mexico; San Diego, California; Roosevelt Roads, Puerto Rico; Mayport, Florida; Dominican Republic; Cannes, France; Naples, Italy; Palermo, Sicily; Genoa, Italy; Athens, Greece; Rhodes; Beirut, Lebanon; Barcelona, Spain; Crete; Livorno, Italy; Gibraltar, Portugal; New York, NY, and some I can't even remember.

We were about a year on the USS Forrestal CVA-59, and a few months on the USS Kitty Hawk CVA-63, USS Franklin D. Roosevelt CVA-42, USS Shangri-La CVA-38, and a quick run on the destroyer USS Kenneth D. Bailey DD-713 because we missed departure.

USS FORRESTAL MED CRUISE: I found some notes with dates for some of our Med Cruise liberties, although they are incomplete, i.e. 8/19/1962 Pollensa Bay, Mallorca; 8/29/1962 Naples, Italy 6 days; 9/10/1962 Cannes, France 7 days; 9/27/1962 Beruit, Lebanon 5 days; 1/1/63 Cannes, France; 1/12/1963 Naples, Italy 9 days; 1/28/1963 Barcelona, Spain 5 days; 2/9/1963 Livorno, Italy. Our berthing compartment on the Forrestal was on portside at 02-167-2-L. You should have heard those jets landing at night from my rack!

| | | |
| --- | --- | --- |
| | My first crow, MU3 . . . I made E-5 but was separated before I could sew the MU2 on... no frocking. | |
My Orders for transfer from COMCARDIV FOUR to Flag Auxiliary Unit (FAU) at CINCLANTFLT NORVA:
28 FEBRUARY 1963 TRANSFER NO.538-63 FROM COMMANDER CARRIER DIVISION FOUR (Unit Band #194) ONBD USS FORRESTAL (CVA-59) AT NORFOLK VA; TO COMMANDING OFFICER, FAU, CINCLANTFLT, NAVBASE, NORFOLK, VIRGINIA (Band #85) TRANSFER CODE NO. CVA59/150800/538-63/MAR63/jdv BY J.F. NAGY, LTJG, USN PERSONNEL OFFICER.


Supreme Allied Command Atlantic

Commander in Chief Atlantic Fleet

Norfolk VA
CINCLANTFLT Band:



When I left Admiral Hyland's COMCARDIV 4 organization, I was assigned to the CINCLANTFLT / SACLANT-NATO base in Norfolk to finish my active duty. The CINCLANTFLT band has changed its name twice since then - to the Atlantic Fleet Band, and now to the United States Fleet Forces Band. The Bandleader was Warrant Officer George Briley, and we had about 50+ in the band, I can't remember exactly. They sent units on tours, including sea going tours, and we did colors and taps every day at the base, concerts and parades around the area, official military ceremonies and smaller gigs. I played mostly drums on the official gigs, and Kenny Drew did most of the keyboard gigs. I played keyboards in two cilvilian combos, and did a lot of off-duty gigs around Tidewater. Mr. B said he would guarantee me shore duty for the next 6 years if I would ship over. HA! Bye Mr. B. . . I left CINCLANT/SACLANT and finished out inactive reserve and was discharged in '66.

I enjoyed living in Tidewater. I lived off-base at Azalea Gardens and was so involved in civvy bands, so I didn't get to know many of our Navy bandmembers very well-because all of my combo gigs at night were with civvy's. I lived with a guy and his wife for a while when I was looking for an apartment and I can't even remember their names. I can picture them, but no names. I remember old Charlie, who I played with pretty regularly, but that was a really rinky dink trio. I played with a couple civvy groups that were pretty good though. Charlie's band played mostly VFW's and American Legions, etc., and the other groups played country clubs, officers' clubs, etc. Lot of good times in Tidewater.

Now this is cool . . . here it is 2012, almost 40 years after I last saw George L. Briley, CWO, and Doug Zinn of Alaska just sent me sheet music with a photo of him . . . the only photo I have ever had of Mr. B. Wow, thanks Doug! Sure made me nostalgic. Thinking back to our drum line at CINCLANT/SACLANT. And all the times I ran from my car to the band already in place on the street beside the bandroom, with my drum sitting on the street next to the band, waiting for me, 0744! But Mr. B . . . I had a minute to spare!!! Barracks duty! But we'll make colors in time! :( We had a good LOUD drumline; people said it gave them goosebumps when we went by :)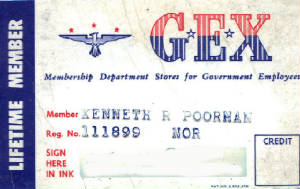 A few docs . . .
| | | |
| --- | --- | --- |
| | | |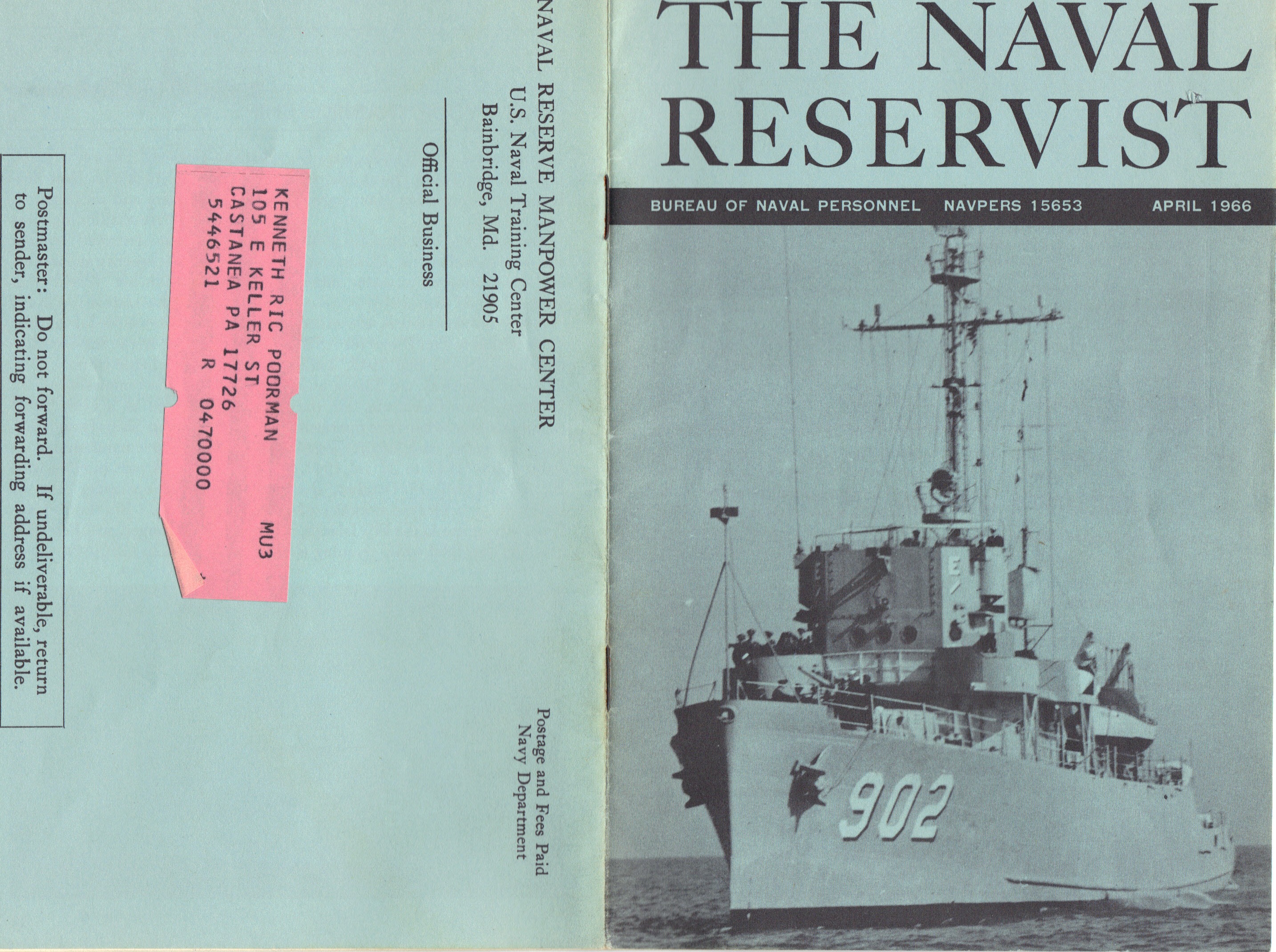 CHRONOLOGY
20 JUL 60 CRUITSTA, PHILA PA; Enlisted & sworn in at the Philadelphia Naval Recruiting Station
21 JUL 60 RECDUINS, SDIEGO CALIF; Boot Camp at Naval Training Center, San Diego, California from 20 July 60 to 3 Oct 60. Assigned to Company #345. Chief White, EMC, was Company Commander, and Capt. Lawrence B. Cook was Commanding Officer. Made Recruit PO3 and was a Squad Leader.
17 AUG 60 AR(HS) AIRMAN RECRUIT; Applied for Air Control (AC) school. Subsequently learned School was full & auditioned for Navy Music Program. Music School had openings.
03 OCT 60 TRAN: In Transit from San Diego CA to Washington DC. Assigned Temporary Assignment Duty (TAD) at the Anacostia Naval Station while awaiting orders to A School.
21 OCT 60 RECDUINS, STU SCH MUSIC USNS WASH DC; Assigned to the U.S. Naval School of Music, Washington DC effective 21 October 1960 where I graduated from the Basic Course on 24 July 1961 after 39 weeks of full time training.
06 SEP 61 RECDUT, COMCARDIV FOUR LANTFLT (24 Jul 61 to 3 Apr 63) Assigned for sea duty with COMCARDIV FOUR, NORVA and Unit Band #194, an 18 piece Fleet Band. We relieved Unit Band #146. During assignment to CONCARDIV 4 sea duty included cruises on the following ships:
USS Kitty Hawk CVA-63 Maiden Voyage Philadelphia to California - W. F. Bringle, Captain, USN, commanding, 22 Sep 61, Pollywog to Shellback, crossed equator Lat. 00°-00' & Long. 39°-30W on 22 Sep 1961; became Trusty Horned Shellback rounding Cape Horn from East to West and entered the Pacific Ocean on 8 Oct 1961

USS Forrestal CVA-59 Norfolk VA - Med Cruise, Cuban Missle Crisis, Project Mercury

USS Shangri-La CVA-38 Mayport FL - (Telegram)

USS F.D.Roosevelt CVA-42 Mayport FL - Dominican Republic Operations
28 FEB 63 TRANSFER NO.538-63 from COMMANDER CARRIER DIVISION FOUR (Unit Band #194) onbd USS FORRESTAL (CVA-59) at Norfolk VA; to COMMANDING OFFICER, FAU, CINCLANTFLT, NAVBASE, Norfolk, Virginia (Band #85) TRANSFER CODE NO. CVA59/150800/538-63/MAR63/jdv by J.F. NAGY, LTJG, USN Personnel Officer.

04 APR 63 RECDUT, CINCLANTFLT NB NORVA (4 Apr 63 to 18 Oct 1963) Stationed at FAU, Commander-In-Chief Atlantic Fleet (CINCLANTFLT) at the Supreme Allied Command Base (SacLant), Norfolk, Virginia in Navy Band 85.
Two of the men I served with were head of the Pacific Fleet Band (COMPACFLT) in Hawaii at one time:
CWO3 George L. Briley, who was Bandmaster when I was with CINCLANTFLT band
CWO4 John E. (Jack) Ingram, Jr., who was with me at COMCARDIV 4 band


11 NOV 3013 1100 I just watched the Veterans Day Ceremony on TV . . . I miss being at the military ceremonies. Played for a lot of them . . . kp

Here are links to some of my military hero pages . . .